Recipe
Fuel to Go Muffins really live up to their name; they are seriously loaded with protein and nutrients but also taste delicious. This is an amazing breakfast muffin, after school snack, or a great way to refuel the athletes in your life. If you are hiking, snowshoeing or spending the day skiing or snowboarding, be sure to pack along some of these muffins. They taste amazing, boost your energy and will fill you up!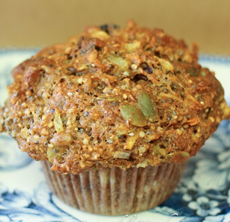 Fuel to Go Muffins
• 2 cups whole wheat flour or all-purpose flour
• 3/4 cup sugar
• 1 tbsp cinnamon
• 2 tsp baking powder
• 1/2 tsp salt
• 1/2 cup shredded coconut
• 1/2 cup each of raisins, dried cranberries, dried blueberries ( 1 ½ to 2 cups total) or any kind of dried fruit like figs or apricots
• 2 cups grated carrots
• 1 apple, shredded
• 8 oz can crushed pineapple, drained well
• 1/2 cup sunflower seeds
• 1/2 cup pumpkin seeds
• ¼ cup chia seeds
• ¼ cup hemp seeds
• 3 eggs
• 2/3 cup vegetable oil can also use olive oil
• 1 tsp vanilla
Mix together flour, sugar, cinnamon, baking powder and salt in a large bowl. Add dried fruit, coconut, seeds, raisins, crushed pineapple, apple and carrots. Stir to combine. In separate bowl whisk eggs with oil and vanilla. Combine this mixture with dry ingredients and mix until just incorporated. Batter will be very thick. Fill 12 baking cups heaping full. Bake at 350 degrees for 30-35 minutes, until tops are nicely browned and crusty. These also freeze very well.