Recipe
This recipe is slightly different than the usual broccoli salad that I make. Adding the broccoli slaw gives this salad an extra crunch. You can add raisins and sunflower seeds if you wish. This is a sweet and creamy broccoli salad with the perfect amount of crunch.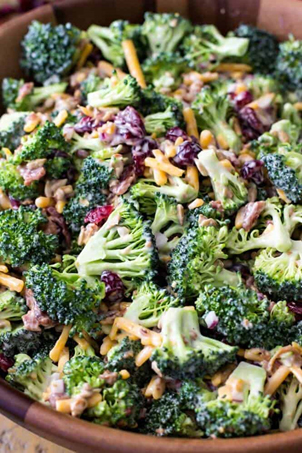 Broccoli Salad
Dressing Ingredients
• I cup of Hellman's Mayonnaise (not Miracle Whip)
• 4 tbsp white sugar
• 3 tbsp vinegar
Salad Ingredients
• 5 cups of chopped up broccoli
• ½ medium red onion, diced
• 8 slices of cooked bacon, crumbled
• 1 cup of grated cheddar cheese
• 1 cup of broccoli slaw
• Raisins, Craisins or sunflower seeds- optional
Mix dressing ingredients together and set aside. Combine all salad ingredients together in a large bowl and pour dressing over. Mix well. Chill in the fridge until serving.