Recipe
I was excited when I found this recipe because Morning Glory Muffins are my favourite muffin AND like most people at the end of summer, I have zucchini that I need to do something with. The crushed pineapple makes this loaf very moist and the mixed in ingredients are open to suit your taste; walnuts are also a nice addition.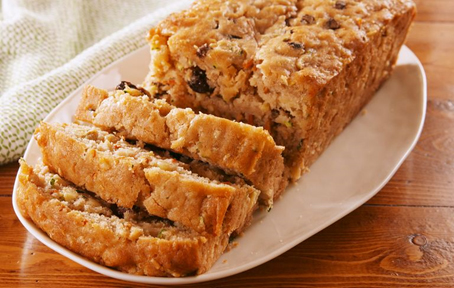 Morning Glory Zucchini Loaf
• 2 c. All purpose flour
• 1 tsp. Ground cinnamon
• 1 tsp. Baking powder
• 1/2 tsp. Baking soda
• 1/2 tsp. Salt
• 1 c. Vegetable oil
• 1/2 c. Granulated sugar
• 2 large Eggs
• 1 tsp. Vanilla extract
• 1 1/2 c. Grated zucchini (from 2 medium)
• 1 c. Grated carrots
• 1 c. Crushed pineapple, drained
• 1/2 cup Raisins
Preheat oven to 350° and grease a loaf pan with cooking spray. In a large bowl whisk together flour, cinnamon, baking powder, baking soda, and salt. In another large bowl stir together oil, sugar, eggs, and vanilla. Add zucchini, carrot, pineapple, and raisins. Add dry ingredients and stir until just combined. Pour batter into loaf pan and bake until a toothpick inserted into the middle comes out clean, about 1 hour 15 minutes. Let cool completely before serving.