Recipe
I had a package of sausages that I needed to do something with last weekend. It was raining so I didn't want to go outside and barbecue them. I found this recipe and decided to try it. It was delicious, packed with flavour and so easy to make! It's perfect for an easy supper or a buffet/potluck dish. Serve on a bun, over pasta or simply enjoy it as it is.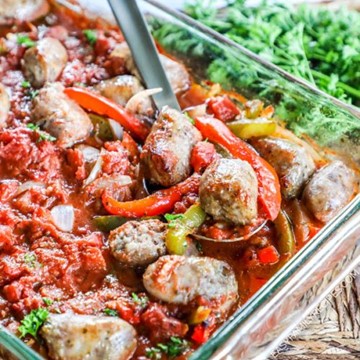 Oven Baked Italian Sausages and Peppers
• 19 oz sweet Italian sausage links (about 5)
• 1 red bell pepper sliced
• 1 green bell pepper sliced
• 1 sweet yellow onion thinly sliced
• 28 oz crushed tomatoes with basil (1 can)
• 4 cloves garlic pressed
• 1 tbsp balsamic vinegar
• 1 tbsp dried oregano
• 1 tsp salt
• 1 tsp sugar
• 1/2 tsp red pepper flakes (optional)
• fresh parsley chopped (optional)
Place the onions and sliced peppers in the bottom of a 9×13" baking dish.
Mix the balsamic vinegar, garlic, oregano, salt, and sugar into the crush tomatoes, then pour over the peppers. Slice the sausages into about 4-5 pieces each and arrange on top of the mixture.
Bake at 400˚F for 30-40 minutes, or until sausage is cooked through (160˚F internal temp.)
Remove from oven and garnish with parsley. Serve warm.