Recipe
This recipe has been floating around on the internet for a while and I've wanted to try it, but hadn't got around to making it. My friend made it this week and gave me a sample to try. Oh my goodness, it is to die for! It's very simple to make, has creamy layers and a chocolate ganache type topping. What's there not to love? You have to plan ahead because it needs to be refrigerated overnight. You can't go wrong with this dessert. Everyone will love it.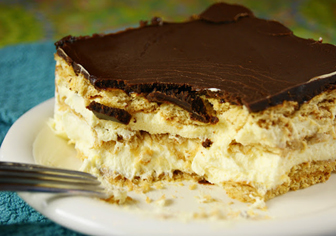 No-Bake Chocolate Eclair Dessert
Filling:
 2 (3.5 oz.) boxes vanilla instant pudding
 3 c. milk
 1 (8 oz.) container Cool Whip (3 cups)
 Graham crackers
Topping:
 1/3 c. unsweetened cocoa powder
 1 c. sugar
 1/4 c. milk
 ½ cup butter (or margarine)
 1 tsp. vanilla
For the filling:
1. Combine pudding mix and milk; beat. Stir in Cool Whip.
2. Place a layer of graham crackers in the bottom of a 9×13" dish.
Spread 1/2 of the pudding mixture over the graham
crackers.
Repeat with another layer of graham crackers and
pudding; then top with a final layer of graham crackers.
For the topping:
3. Bring cocoa, milk, and sugar to a full rolling boil; boil about
1 minute, stirring very frequently.
Remove from heat and
cool one minute. Add
butter and vanilla; stir
until butter is melted.
4. Pour chocolate topping
over the top layer of
graham crackers.
5. Refrigerate overnight.