Recipe
I had this delicious brie appetizer on the weekend and had to find the recipe and share it with you. The apple crumble topping is the perfect accompaniment to the creamy brie and the presentation is impressive.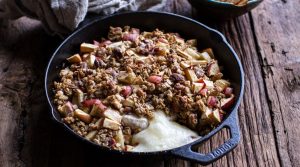 Apple Crisp Baked Brie
• 1 round (16 oz) Brie cheese
• 2 cups old-fashioned oats
• ¼ cup packed brown sugar
• ¼ teaspoon salt
• 1 teaspoon ground cinnamon
• 1 ½ cups raw pecans
• ¾ cup unsalted butter, softened
• 2 small to medium red apples, chopped
• Crackers or toasted bread, as desired
Heat oven to 350°F. Grease 10- to 12-inch round pie plate or baking dish with shortening or cooking spray. Place round of Brie in middle of pie plate. In medium bowl, mix oats, brown sugar, salt, cinnamon and pecans. Add butter and use your hands to incorporate softened butter into dry mixture. (You want everything to be moist.) Mix in apples. Spread apple mixture over top of Brie and around sides. Bake 20 to 25 minutes or until the crisp topping is browned. Serve hot with crackers or toasted bread.