Recipe
I've had a couple friends make this recipe and tell me it was delicious and a must try; I haven't made it yet but it's on the menu for this week. I've been told it's great made exactly as the recipe reads and another friend said it was delicious, but she would double the cream cheese and broth next time, mostly because she loves cream cheese. It's sounds like you can't go wrong either way.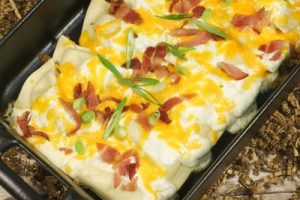 Baked Pierogi Casserole
• 16 oz frozen pierogis
• 2-3 slices cooked bacon, crumbled
• 1/3 cup cream cheese
• 1/2 cup chicken broth
• 1/4-1/2 cup shredded cheddar cheese
• chopped green onions, optional
Preheat oven to 400 degrees. Lightly spray a 9 x 13 dish with nonstick cooking spray. Arrange frozen pierogis in dish. In a saucepan, mix cream cheese and chicken broth. Stir frequently until cheese is melted and smooth. Pour melted cream cheese mixture evenly over pierogis. Sprinkle evenly with cheddar cheese. Bake 20 – 25 minutes until cheese is bubbly and pierogis are warmed through. Garnish cooked dish with crumbled bacon and chopped onions.