Recipe
Thank you again to my 'recipe friend' for sharing another delicious recipe with us.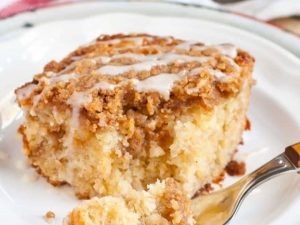 Banana Bread Crumb Cake
• 2 cups of flour
• 3 tsp baking powder
• 1 tsp salt
• 3 ripe bananas
• ½ cup butter, softened
• 2 cups granulated sugar
• 2 eggs
• 1 tsp vanilla
• 1 cup milk
Crumb Filling and Topping
• 1 cup cold butter, cubed
• 2 cups light brown sugar
• 2 cups flour
Optional Glaze
• 1 cup icing sugar
• 1-2 tbsp milk
• Cinnamon, optional
Preheat oven to 350 degrees. Spray a baking dish with cooking spray. In a medium bowl whisk together flour, baking powder and salt; set aside. In a large bowl, mash bananas until liquefied. Mix in butter until combined and then add the sugar, eggs and vanilla. Stir in milk and then flour mixture until combined. Prepare your crumb filling by combining all ingredients together and cutting them together with a fork or pastry cutter until coarse crumbs form. Pour ½ of the batter into the prepared pan. Top with 1/2 crumb mixture. Cover the filling with the remaining batter and top with remaining crumb mixture. Bake for 45-55 minutes, depending on your oven, until the center is set and a toothpick comes out clean. Cool for 10 minutes. If you like, mix powdered sugar, milk and optional cinnamon and drizzle on top.