Recipe
Thank you to our Publisher's sister for the following recipe. Meat loaf is classic, comfort food, perfect for popping in the oven during the upcoming colder months.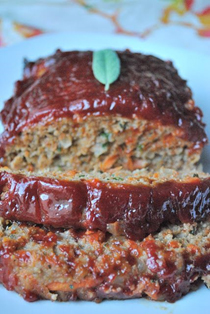 Best Ever Meat Loaf
• 1 ½ lbs of lean ground beef
• 2 eggs
• 2/3 cup milk
• 3 slices of bread, crumbled
• 1 small onion, diced
• ½ cup raw carrot, shredded
• 1 cup grated cheddar cheese
• 2 tsp salt
• ¼ tsp pepper
Glaze
• ¼ cup brown sugar
• ¼ cup ketchup
• 1 tbsp prepared mustard
Beat eggs slightly. Add milk, salt, pepper and bread. Mix well. Add onions, carrots, cheese and beef. Mix well and put into a loaf pan. Combine glaze ingredients and spread over the loaf. Bake at 350 degrees for 1 hour. Pour off any excess fat when finished cooking and let loaf sit for 5 minutes before serving.