Recipe
A quick and delicious dessert to serve your loved ones on Valentine's Day. All the goodness of a Black Forest cake in an easy, layer version. The whipped cream topping can be omitted if desired. It stores well in the refrigerator.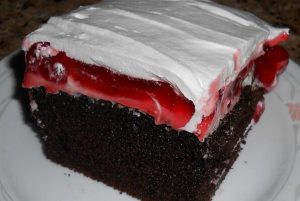 Black Forest Dessert
• 1 (18.25 ounce) package devil's food or chocolate cake mix
• 2 (8 ounce) packages cream cheese
• ½ cup white sugar
• 1 (21 ounce) can cherry pie filling
• Large container of Cool Whip
Prepare chocolate cake according to directions, using a 9×13 inch baking pan.
While cake is baking; in a medium-size mixing bowl, mix cream cheese and sugar together until blended. Place in the refrigerator.
When the cake has finished cooking, let cool completely. Carefully spread the cream cheese mixture over the cake. Next, pour the cherry pie filling over the cream cheese mixture. Frost carefully with the whipped topping and refrigerate until ready to serve.