Recipe
I have put this recipe in my column before but it's worth publishing again. Friends made it for my Birthday party this summer, and we couldn't eat it fast enough. It's beyond simple to make with only 4 ingredients, but it's "oh so delicious". It's great to take to a party, a potluck or serve at a gathering. For the caramel layer be sure to buy a thick dip or sauce. You don't want it runny.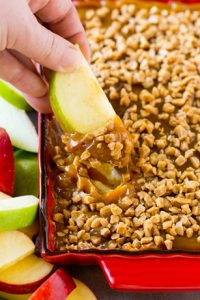 Caramel Apple Dip
• 1 8oz block of cream cheese
• 1/3 cup of sugar
• 1 16 oz container of caramel sauce ( Thick)
• ½ cup of Skor bits
Place the cream cheese in a medium bowl and beat with a mixer until smooth and creamy. Add the sugar and beat until thoroughly combined. Spread the cream cheese mixture in a serving dish. Pour the caramel sauce over. Spread into an even layer. Sprinkle with Skor bits. Refrigerate until ready, but bring to room temperature before serving. Serve with sliced green and red apples. Graham wafers, butter cookies and sliced pears are also good.