Recipe
Refrigerated crescent dinner rolls are a great start for so many delicious recipes. They are perfect if you want to whip up a snack for your family or guests at the very last minute. Adding a filling makes them a quick and delicious lunch, a great addition to a brunch menu or a perfect appetizer for a party. These are made with shredded chicken and four kinds of cheese, but you can easily adapt the filling to your taste and use anything you have on hand.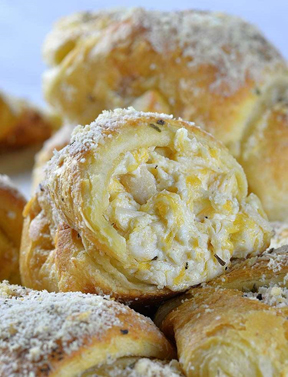 Cheesy Chicken Crescent Dinner Rolls
• 8 Big & Flaky Crescent Dinner Rolls (one 12 oz. tube)
• 8 oz. softened cream cheese
• 1 ½ cups shredded cheddar cheese
• 1 cup shredded mozzarella cheese
• 2 cups cooked shredded chicken
• salt -to taste
• ¼ teaspoon garlic powder(or more to taste)
• ¼ teaspoon black pepper
• 2 tablespoons melted butter
• 3 Tablespoons grated Parmesan
• 1/2 teaspoon dry Italian seasoning mix
Preheat the oven to 375 F and line baking sheet with parchment paper. In a bowl stir together softened cream cheese, shredded cheddar and mozzarella, salt, pepper and garlic powder. Stir well to combine. Add shredded chicken and stir again to combine everything evenly. Unroll crescent rolls, separate them, and divide the filling between each crescent roll. Roll them up tightly, seal well and arrange them onto baking sheet, leaving 2 inches apart. Brush the rolls with melted butter and sprinkle with grated parmesan. Sprinkle a hint of dry Italian seasoning on top and bake 15-18 minutes until golden brown.