Recipe
A gyro (pronounced yee-roh) is a Greek sandwich that is traditional made with lamb, but I came across this recipe using chicken which appealed to me. I prepared the chicken and tzatziki sauce in the morning, so all I had to do was quickly sauté the chicken and cut up some fresh veggies at dinner time. We really enjoyed these, so much so, we had them again the next day. The left-over tzatziki sauce is delicious spread on warm pita's, used as a sandwich spread or as a dip for fresh vegetables. If you are in a hurry or feeling a tad lazy, you can buy the tzatziki sauce at the grocery store. This recipe can also be made into a rice bowl by placing the chicken, cut up vegetables and feta cheese over a bowl of hot rice and drizzling with tzatziki sauce.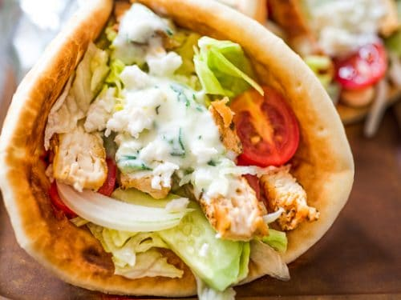 Chicken Gyro
For the chicken marinade:
• 1 lb. chicken breast sliced into ½-inch strips
• 3 tbsp. olive oil
• 1 tbsp. lemon juice
• 1 tbsp. red wine vinegar
• 1 tsp. paprika
• 1 tsp. dried oregano
• 1/2 tsp. salt
• 1/2 tsp. pepper
For the Tzatziki Sauce:
• 1 medium cucumber
• 1 cup plain Greek yogurt
• 1 tbsp. extra virgin olive oil
• 1 tbsp. lemon juice
• 2 tbsp. chopped fresh dill or 1 tbsp dried dill weed
• 1 medium clove garlic pressed or minced or 1tsp garlic powder
• ¼ teaspoon salt
For the Gyro:
• Pita bread
• Toppings: shredded iceburg lettuce, sliced tomatoes, sliced cucumbers, sliced red onion, feta cheese.
Marinate the chicken. Place the chicken in a medium bowl and add all of the marinade ingredients. Mix it well, cover with plastic wrap, and marinate for at least 2 hours, preferably overnight. Make the tzatziki. Grate the cucumber and squeeze the excess liquid out with your hands. Discard the liquid. Place the cucumber in a mixing bowl with the rest of the tzatziki ingredients and mix well. Refrigerate. Cook the chicken. Heat a large, non-stick skillet over medium-high heat. Add the chicken slices and cook for about 4-5 minutes on each side, until cooked through. Slice the chicken into thin strips. Make the Gyro! Warm the pita bread (in the oven or microwave). Add a bit of shredded lettuce, tomato, cucumber, onion, and chicken on top. Drizzle with a generous amount of tzatziki and feta cheese, if desired. Fold the gyro in half and serve.