Recipe
Last week I shared one of my Mother-in -law's tried and true recipes and here is another one. She kindly has provided me with a month's worth of recipes, which is simply wonderful because it saves me a lot of research and work, and I confidently know that the recipes are good. This bread dunks deliciously into big bowls of chili, but can be served with any meal.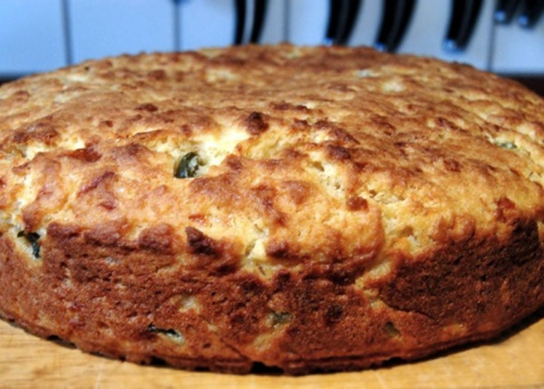 Chili- Cheese Corn Bread
• ½ pound of pepperoni
• 2 cups all-purpose flour
• 1 ½ cups yellow cornmeal
• 1/3 cup of sugar
• 2 tbsp baking powder
• 1 ½ tsp salt
• 2 eggs
• 1 cup milk
• ½ cup vegetable oil
• ½ cup sour cream
• 6 oz (1 ½ cups) of shredded cheddar cheese
• 1 4oz can chopped green chillies, drained
Preheat oven to 375 degrees. Grease a 9" spring form pan. Chop pepperoni into small pieces. In a large bowl, measure flour, cornmeal, sugar, baking powder and salt. In a medium bowl with a wire whisk, beat eggs, milk, oil and sour cream until smooth. With a fork, stir egg mixture into the flour mixture just until blended. Stir in the pepperoni, cheese and green chillies. Spoon batter into prepared pan. Bake 60 minutes or until golden and toothpick inserted in center comes out clean. To serve-carefully loosen bread from inside of pan; remove side of pan and slice bread. Serve warm.