Recipe
If you're looking for an easy, no-bake goodie to add to your cookie tray, these Chubby Hubby Clusters are absolutely delicious. Chocolate, peanut butter, pretzels, and peanuts all come together to make a perfect little treat. No baking required.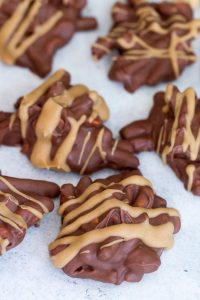 Chubby Hubby Clusters
• 1 1/2 cups semi sweet chocolate chips
• 1 cup peanut butter chips
• 1/2 cup butter, cut into pieces
• 1/4 cup peanut butter
• 2 cups pretzel sticks, roughly chopped
(I just broke them all in half)
• 1 cup salted peanuts
In a large bowl, mix together chocolate chips, peanut butter chips, butter, and peanut butter. Microwave on high for 45 seconds, stir, and microwave again for 30 seconds. Stir until smooth (if it isn't completely melted, return to the microwave for 20 second intervals, stirring after each time).
Add pretzels and peanuts to the melted chocolate mixture and stir until they are completely coated in chocolate. Drop by tablespoonfuls onto wax paper and refrigerate for about 30 minutes or until firm. Optional: drizzle with melted peanut butter or peanut butter chips. Store in an airtight container.