Recipe
I have a favourite meatloaf recipe that I have used for years but every once in a while I like to try a different recipe. There are many, MANY different versions of the classic meatloaf out there; some with cheese, some with real bread crumbs, some with or without a glaze. I tried this one last night and I think I may like it more than my old standby recipe. It has a lot of flavour and is moist with a sweet glaze topping.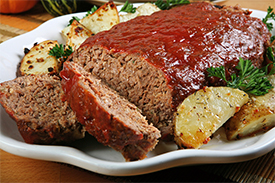 Classic Meatloaf
● 1- 1 1/2 pounds ground beef
● 1 small onion or half of a larger onion, chopped
● 1/2 cup bread crumbs (Italian adds a nice flavour)
● 1/4 cup Parmesan cheese
● 1/4 cup parsley, chopped
● 1/4 cup milk
● 1 tablespoon garlic, minced
● 2 eggs, beaten
● Salt and pepper
For the Glaze:
● 1/2 cup Ketchup
● 2 tablespoons brown sugar
● 1 tablespoon mustard
● Dash of Worcestershire sauce
Preheat the oven to 350 degrees F. Place all of the meatloaf ingredients into a bowl, and using your (very clean) hands, combine all of the ingredients. Then, in a separate bowl, mix together all of the ingredients for the glaze. Remove the meat mixture from the bowl and form into a loaf, place in a baking dish. Spread about 1/2 of the glaze over the loaf. Place the loaf in the oven and bake for 45 minutes. I take it out of the oven and drain off any fat that has accumulated and then spread the loaf with the last half of the glaze and cook for an additional 15 minutes. Once the loaf is done (internal temp of the meat should be 155 degrees and/or no longer pink), remove from the oven and serve.