Recipe
These little coconut nests are perfect for Easter. Pressed into mini muffin pans and lightly browned, they resemble mini nests. You can use any type of candy egg you prefer to fill them: candy coated chocolate eggs, jelly beans, malted-milk eggs, or a combination of all. They are a cinch to make, they taste delicious, and they look adorable.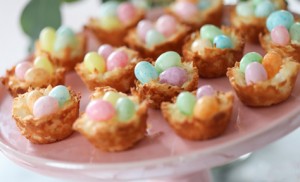 COCONUT MACAROON NESTS
Makes about 30
• 4 egg whites
• 1 tablespoon sugar
• 1/2 teaspoon salt
• 1 package (14 ounces) sweetened flaked coconut
• 1/2 cup white chocolate chips, melted
• 70-90 mini candy eggs
Begin by preheating your oven to 300 degrees F. Coat the cups in a mini muffin pan with cooking
spray and set the pan aside. In a large bowl, combine the egg whites, salt, and sugar. Then, with a fork, mix in the coconut. Drop 2 tablespoons of the coconut mixture into each prepared mini muffin cup.
Using your thumb, lightly press the mixture into the bottom and up the sides of each cup. Bake for 28 to 30 minutes, until lightly golden on top. (Loosely place a piece of aluminum foil over the top of the pan if the coconut starts to brown too quickly.) Let the nests cool in the tins on a wire rack for about 10 minutes. Then run a spatula around the edges of the muffin cups to loosen the nests. Carefully lift out the nests and allow them to cool completely. With the melted chocolate in a piping bag (or plastic baggie with a corner cut off), pipe a small amount of chocolate into each nest. Add 2 or 3 candy eggs and press them gently to secure. Pack and store in an air-tight container.