Recipe
I woke up this morning and made the following cookies. I wanted to be sure they were good before I shared the recipe with you. Needless to say I had cookies for breakfast. These are a simple, yet delicious and flavourful sugar cookie very similar to a famous premade cookie dough that you buy from the grocery store. The dough is firm yet pliable and is easily rolled into little balls. I found using my stand up mixer was the easiest way to make the dough. They will come out of the oven puffed up but flatten as they cool. The edges of this cookie are crispy but the centers remain soft and chewy.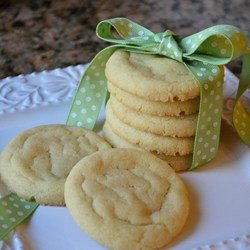 Cracked Sugar Cookies
• 1 1/4 cups white sugar
• 1 cup butter
• 3 egg yolks
• 1 teaspoon vanilla extract
• 2 1/2 cups all-purpose flour
• 1 teaspoon baking soda
• 1/2 teaspoon cream of tartar
Preheat oven to 350 degrees F. Cream together sugar and butter. Beat in egg yolks and vanilla. Add flour, baking soda, and cream of tartar. Stir. Form dough into walnut size balls and place 2 inches apart on cookie sheet. Don't flatten. Bake 10 to 11 minutes, until tops are cracked and just turning colour.