Recipe
My vegetarian daughter recommended this recipe to me. Quick, easy, flavourful, and made with 100% real ingredients, this version of Creamy Tomato and Spinach Pasta uses just a touch of cream cheese and Parmesan to make a regular tomato sauce rich and creamy. If you're not into cream cheese, you can also add a splash (1/4 cup or so) of half and half to achieve a similar effect. Sliced mushrooms would also be a great addition; just cook the mushrooms along with the onions and garlic. You can always do a plain creamy tomato sauce without the vegetables. The options are endless.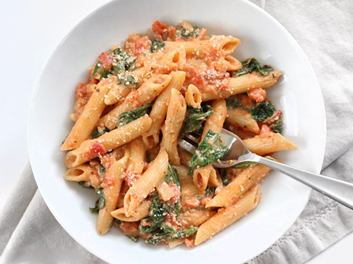 Creamy Tomato and Spinach Pasta
Serves: 4
• 1/2 lb penne pasta
• 1 small onion
• 2 cloves garlic
• 1 Tbsp olive oil
• 15 oz can diced tomatoes
• 1/2 tsp dried oregano
• 1/2 tsp dried basil
• pinch red pepper flakes (optional)
• 1/2 tsp salt
• freshly cracked pepper to taste
• 2 Tbsp tomato paste
• ½ cup water
• 2 oz cream cheese
• 1/4 cup grated Parmesan
• 1/2- 9 oz bag fresh spinach
Bring a large pot of water to boil over high heat. Add the pasta and cook until tender (7-10) minutes. Drain the pasta. While waiting for the pasta to cook, dice the onion and mince the garlic. Cook both in a large skillet with the olive oil over medium-low heat until softened and transparent (about 5 minutes). Add the diced tomatoes (with juices), oregano, basil, red pepper flakes, salt, and some freshly cracked pepper to the skillet. Stir to combine. Add the tomato paste and a 1/2 cup of water to the skillet and stir until the tomato paste is dissolved into the sauce. Turn the heat down to low. Cut the cream cheese into a few pieces and then add them to the skillet with the tomato sauce. Use a whisk to stir the sauce until the cream cheese has fully melted in and the sauce is creamy. Add half of the Parmesan to the skillet and whisk until it is melted in. Add the remainder of the parmesan and whisk until melted in again. Add the fresh spinach and gently stir it into the sauce until it has wilted (3-5 minutes). Add the pasta and stir until it is well coated in the creamy tomato sauce. Taste and adjust the salt and pepper as needed. Serve warm.