Recipe
This cucumber tomato feta salad is a perfect side dish recipe for using garden fresh produce. I love tomatoes and cucumbers together; add fresh dill, briny olives and creamy feta cheese and you have a delicious summer salad.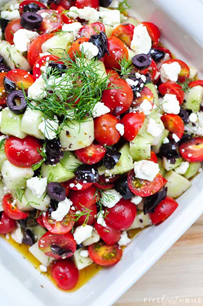 Dill & Garlic Dressing:
• 1/2 cup olive oil
• 1/4 cup red wine vinegar
• 1 1/2 tsp sugar
• 1 clove garlic, minced
• 1 tbsp fresh dill, minced
• 1 tsp oregano
• 1/2 tsp garlic powder
• 1/4 tsp salt
• freshly ground black pepper, to taste
Salad:
• 1 pound of cherry or grape tomatoes, cut in half or 3 large
tomatoes, seeded and chopped
• 1 pound cucumbers (approximately 2 large or 4 small), peeled
and diced
• 1/2 cup Kalamata olives, drained and chopped
• 1/2 cup feta cheese, crumbled
• 2 tbsps fresh dill, chopped for garnish
• In a medium bowl, whisk together the olive oil, vinegar, sugar, garlic, fresh minced dill, oregano, garlic powder, salt, and pepper until thoroughly blended. Alternatively, you may measure the ingredients into a jar, tighten the lid, and shake until incorporated.
• In a large bowl, combine the tomatoes, cucumbers, olives, and feta. Whisk or shake the dressing and pour over the top. Toss together until all of the ingredients are evenly coated.
• Cover the salad and refrigerate for at least 4 hours, removing from the refrigerator 30 minutes before serving. Stir well, garnish with dill, and serve with a slotted spoon to drain off any excess dressing.