Recipe
Peanut butter cookies are one of my favourites, so when my mother in law told me she had a recipe for them with a peanut butter centre; I asked if I could have it. She shared her recipe with me along with a sample of these double, delicious cookies. They are not only pretty to look at; they are as tasty as they sound. I can attest to this. I ate 3 before they made it home.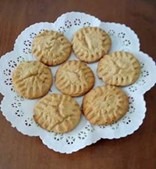 Double Peanut Butter Cookies
(makes 2 dozen)
• 1  1 /2 cups flour
• ½ cup white sugar
• ½ tsp baking soda
• ½ cup shortening
• ½ cup peanut butter
• ¼ cup light corn syrup
• 1 tbsp milk
• Additional peanut butter for filling.
Sift dry ingredients together. Blend in shortening and peanut butter. Stir in the corn syrup and milk. Shape into 2 rolls; chill. Slice each roll into 1/8 to 1/4 inch thick rounds. Place half the cookies on ungreased cookie sheets. Drop ½ tsp of peanut butter onto the centre of each cookie. Cover each cookie with remaining cookie slices; seal edges with a fork. Bake at 350 degrees for 10 – 12 minutes. Let cool and remove from cookie sheet
Photo by Bonnie Muncaster