Recipe
This recipe is extremely easy to make and is the perfect side dish for all your Mexican meals. I make it to accompany fajitas and tacos. It doesn't contain any extra fillings, so even picky kids will like it.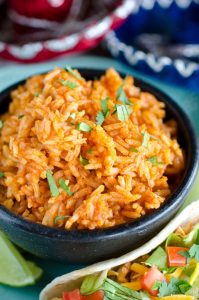 Easy Mexican Rice
• 2 tablespoons vegetable or canola oil
• 1 cup uncooked long-grain white rice
• 1 1/2 cups chicken stock or broth
• 8 oz. can tomato sauce
• 1 teaspoon chili powder
• 1 teaspoon garlic salt
• 1/2 teaspoon ground cumin
Heat the oil in a 4-quart saucepan over medium-high heat. Add the rice and cook until translucent (somewhat clear) about 3-4 minutes; stirring frequently. Add the rest of the ingredients and bring to a rapid boil over high heat. Cover, turn the heat down to almost low (a little less than medium low) and cook for 25 minutes. Remove cover and let stand 2-3 minutes before fluffing with a fork.