Recipe
I was given this recipe last year from a reader but it was after the holidays, so I decided to save it and put it in this year's paper as Christmas approaches. She said it was delicious recipe that comes together quicker than other traditional fruit cake recipes. You can add or omit ingredients to customize it to your liking.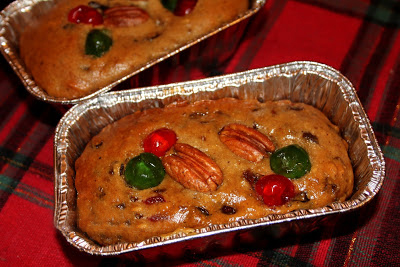 Easy Mincemeat Fruitcake
• 1 jar (750 ml) E. D. Smith Mincemeat
• 1 ½ cups water
• 2 eggs, lightly beaten
• 1 15 oz can Eagle Brand sweetened condensed milk
• 1 cup glazed red cherries (optional)
• 1 cup glazed or sugared pineapple (optional)
• 1 cup coarsely chopped nuts
• 2 cups mixed candied fruits
• 2 ½ cups flour
• 1 tsp baking soda
In a medium size pot pour in the mincemeat and break it up. Over medium heat add the water and stir until lumps disappear. Boil for one minute. Stir, and let cool. Preheat oven to 300 degrees. In a large bowl combine the eggs, mincemeat, Eagle Brand milk, fruit and nuts. In another bowl combine the flour and baking soda. Fold the dry ingredients into the wet. Butter 2 loaf pans, line with waxed paper, butter the paper. Pour batter into the pans. Bake for 2 hours until tops are golden and center springs back when lightly touched. Cool, turn out of pan and remove paper.