Recipe
I believe this recipe originally came from one of my sister's friends. I make it quite often. It is great for bake sales, because it uses basic ingredients that I usually have on hand, it's quick and easy to prepare and it makes a large pan of squares. It tastes like a brownie but is not as thick as a regular brownie.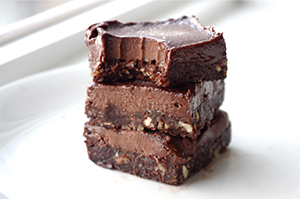 Fudge Squares
• 1 cup of butter
• 2 cups of brown sugar
• 2 eggs
• 2 tsp of vanilla
• 1 ½ cups of flour
• Pinch of salt
• 4 tbsp cocoa
Frosting
• 2 tbsp of cocoa
• 1 tbsp butter
• 1 tsp vanilla
• 3 tbsp milk
• Enough icing sugar to make a stiff mixture.
Cream the butter and brown sugar together. Add the eggs and vanilla and beat well. Add the flour, salt, and cocoa and beat on low speed until well blended. Spread into a 9 x 13 greased pan and bake for 30 minutes in a 325 degree oven. Remove cake from oven to cool. Meanwhile make frosting by combining cocoa, butter, vanilla and milk. Slowly add icing sugar while mixing until the frosting becomes stiff. Ice the cake when it's cool.
*** Correction:
In last week's recipe column "Blueberry Muffins", there was an error. Recipe called for 1 ½ cups of baking powder, however it should have read 1 ½ tsp of baking powder.