Recipe
I haven't been a sweet potato fan all my life, but as I've gotten older and have tried them prepared in different ways, I can now say I enjoy them. I have grown to love sweet potato fries dipped in chipotle dip and I also really like the following recipe. Crispy and buttery on the outside, while soft and sweet on the inside. They don't "smash" like a regular potato so be gentle with them; you may have to form them back together a little bit.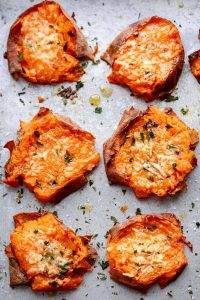 Garlic Butter Smashed Sweet Potatoes
• 4 medium sweet potatoes (or 3 large sweet potatoes)
• A light spray of olive oil
• 3 tablespoons melted butter
• 4 cloves garlic, crushed
• 1 tablespoon fresh chopped parsley
• Kosher Salt and Black Pepper to taste
• 2 Tbsp Parmesan Cheese
Preheat oven to 350 degrees. Cut each sweet potato into quarters (or 1 1/2 – inch pieces). Bake sweet potato pieces for 25-30 minutes, or until they are fork tender or boil until just tender. Allow to cool for about 5 minutes, or until you can handle them without burning your hands. Lightly grease a large baking sheet or tray with cooking oil spray. Smash them with a fork. You may have to mould them a little into shape after smashing them, because they are much softer than the average potato. Set your oven to broil. Mix together the butter, garlic and parsley. Drizzle the mixture over each sweet potato. Sprinkle with salt and pepper and lightly spray with olive oil spray. Broil until they are golden and crispy (about 15 minutes but keep an eye on them). Remove from oven, sprinkle over the parmesan cheese and return to the oven until the cheese is melted.