Recipe
There is nothing simpler and more satisfying than a fresh, homemade muffin and a cup of coffee in the morning. These orange flavoured muffins with a crunchy topping are a great way to start the day. Be careful not to over stir, I limit myself to 5-6 large strokes, stopping just before the mixture is totally combined. This keeps your muffins from being tough. Bake according to your oven; my oven bakes very hot so I had to bake these at 350 degrees.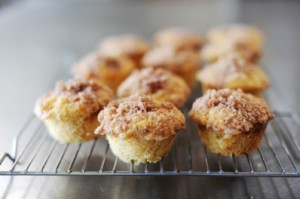 Good Morning Muffins
• 2 cups Flour
• 1/4 cup Sugar
• 1 Tablespoons Baking Powder
• 1/4 cup shortening
(can Use 1/8 Cup Shortening With 1/8 Cup Butter)
• 1 cup Orange Marmalade (I small 250 ml jar)
• 1/2 cup Orange Juice
• 1 teaspoon Vanilla
• 1 whole Egg, Beaten
Topping Ingredients
• 3/4 cups Sugar
• 1 teaspoon Cinnamon
• 1 teaspoon Nutmeg
• 1 Tablespoon (plus 1 Teaspoon) Melted Butter
• 1/4 teaspoon Salt
• Wheat Germ (optional)
Preheat oven to 375 degrees. Sift together flour, sugar, and baking powder. Place in a mixing bowl. Use a pastry cutter to mix in shortening (or butter/shortening if desired). Mix marmalade, orange juice, and vanilla in a small bowl. Pour into dry ingredients. Beat egg and pour into the bowl. Mix all ingredients together gently. In a small bowl, mix topping ingredients. Fill muffin pans with batter. Sprinkle a heaping teaspoon of topping ingredients over each muffin. Sprinkle wheat germ over the top for an extra crunch if you wish. Bake for 20 to 22 minutes until done. Remove from pan and place on wire rack to cool.