Recipe
I had a request for some healthy recipes for make ahead lunches or light dinners. After some research and taste testing, here is my first recipe for you. Loaded with fresh veggies and drizzled in a light homemade dressing, these tasty vegetarian Greek Quinoa Bowls make healthy eating simple and delicious. Add your favourite toppings; dollops of hummus, chopped fresh tomatoes, sliced avocados, black or Kalamata olives and have some pita wedges on the side for scooping. This recipe can also be made in advance into a salad and enjoyed for weekday lunches or as a side dish for dinner.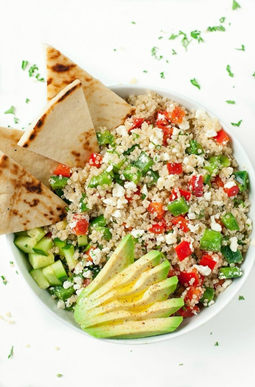 Greek Quinoa Bowls
• 1 cup quinoa
• 1 + 1/2 cups water
• 1 cup chopped green bell pepper
• 1 cup chopped red bell pepper
• 1/3 cup crumbled feta cheese
• 1/4 cup extra virgin olive oil
• 2-3 TBSP apple cider vinegar
• salt and pepper, to taste
• 1-2 TBSP fresh parsley
Toppings
• Hummus
• Pita wedges
• Olives
• Fresh tomatoes
• Sliced or chopped avocado
• Lemon wedges
First rinse and drain your quinoa using a sieve. Bring a medium saucepan to medium heat and lightly toast the quinoa to remove any excess water. Stir as it toasts for just a few minutes. This step is optional but really adds to the nuttiness and fluff factor of the quinoa. Next add your water, set burner to high, and bring to a boil. Once boiling, reduce heat to low and simmer, covered with the lid slightly ajar, for 12-13 minutes or until quinoa is fluffy and the liquid has been absorbed. While the quinoa cooks, chop and prep the remaining ingredients and whisk together your dressing ingredients. Fluff the quinoa with a fork. For a chilled salad, you can pop the quinoa in the fridge for a few minutes prior to adding the peppers and feta cheese or simply let it cool on the countertop for a few minutes for a room temperature quinoa bowl.
For the vinaigrette; whisk together olive oil, apple cider vinegar, salt, and pepper. Pour over your quinoa bowl and toss. Add any additional salt and pepper to taste, if desired.
To make Quinoa bowls: scoop quinoa into a bowl and top with your desired toppings.