Recipe
An easy salad to prepare that combines the favourite pasta salad with the ingredients found in a Greek salad. A great salad for summer barbecues, an easy weekday lunch or as a dinner side dish.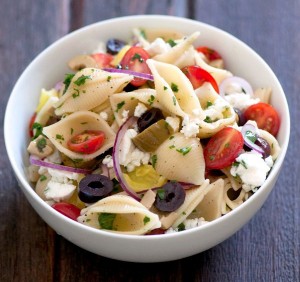 Greek Vinaigrette Pasta Salad
• 1 pound pasta (shells are nice in this salad)
• 1 whole green bell pepper, seeded and diced
• 1 whole small cucumber (cut fourths and diced)
• 2 whole small vine-ripened tomatoes, diced
• 1/2 small red onion, diced
• Greek Vinaigrette Dressing (use as much as desired)
• ¼ teaspoons salt
• ¼ teaspoons ground pepper
• Feta cheese (crumbled)
Cook pasta according to package directions. Dice bell pepper, cucumber, onions, and tomatoes. When pasta is finished cooking, combine all ingredients and coat in Greek vinaigrette. Add salt and pepper to taste. Chill in the refrigerator before serving. Before serving add desired amount of feta cheese and toss.