Recipe
This is a simple but delicious recipe that I found in an old cookbook years ago. They can be served with any type of meat, and everyone enjoys them. Just be sure not to cut the potatoes all the way through when preparing them.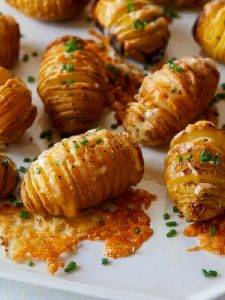 Hasselback Baked Potatoes (Makes 4 servings)
• 4 medium baking potatoes
• 1 tsp salt
• 2 to 3 tbsp melted butter
• 2 to 3 chopped fresh herbs,
such as parsley, chives or thyme
• 4 tbsp grated cheddar cheese
(or more if you like them cheesy)
• 1 1/2 tbsp parmesan cheese
Scrub potatoes. Cut potatoes into thin slices vertically, but not all the way through (like a fan). Put potatoes into a baking dish, fan them slightly. Drizzle with melted butter and then sprinkle with salt and herbs. Bake potatoes at 425 degrees for 50 minutes or until tender. Remove from the oven and sprinkle with the cheeses. Return to the oven and bake for another 10-15 minutes.