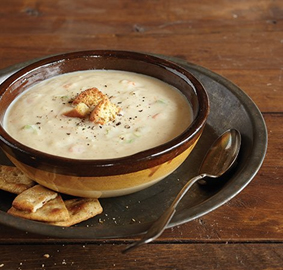 Recipe
If I had to pick a favourite family recipe that I've been eating since I was a kid; homemade potato soup would definitely be one of the top 5. My mom would serve each steaming bowl with a dollop of butter melting across the top, and my dad and I would tear up a piece of white bread and add it to our bowl. I still eat potato soup with bread in it and never crackers. My kids grew up eating it as well, and it's my middle son's favourite soup. Over the years I have adjusted the recipe just a bit (I now add celery) and I have tasted other great recipes containing ham, bacon, cheese or other vegetables, but this is the basic recipe that never fails me. This makes a large pot of soup, so I usually half the recipe.
Homemade Potato Soup
• 10 cups of raw potatoes, peeled and sliced thinly
• 2 onions, chopped fine
• ½ cup celery
• 4 cups of water
• 4 tsp salt
• 6 tbsp butter
• 5 cups of milk
Put potatoes into a heavy saucepan. Add onions, celery, water and salt. Cook over medium heat until vegetables are tender. Do not drain. Mash with a potato masher. Stir in butter and milk and heat until hot.