Recipe
I can't think of a better time to make this recipe with cucumbers and fresh herbs being in season. Tzatziki is a classic, Greek, cucumber, yogurt, sauce or dip that has become very popular in recent years. It traditionally is served as a condiment for gyros, fish and souvlaki but is delicious on many other things or just used as a dip. We go through a container a week with my daughter being home for the summer. She takes it in her lunch and dips whole wheat pita wedges or vegetables in it. We also enjoy it on perogies, baked potatoes, stuffed chicken breasts or anything else that you would put sour cream on. Making your own Tzatziki with low fat Greek Yogurt makes it a healthier and more delicious option than sour cream. I made some yesterday and will have to make more today. I let the yogurt and grated cucumber sit in a fine, metal sieve for an hour or so, and then quickly mixed in the rest of the ingredients; very simple and very delicious.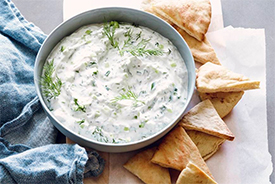 Homemade Tzatziki
• 8 oz low fat or fat-free Greek yogurt
• 1 small cucumber, peeled and seeded (1 cup grated and drained)
• 1 clove garlic, crushed
• 1-2 tsp lemon juice
• 1 tbsp fresh dill, chopped
• 1 tbsp fresh chives, chopped (optional)
• kosher salt and fresh pepper (to taste)
Strain the yogurt using a metal strainer or a coffee filter for a few hours to remove as much liquid as possible. Set aside. Scoop seeds out of the cucumber with a small spoon. Place cucumber in a mini food processor or grate with a cheese grater. Drain the liquid from the cucumber in a metal strainer and sprinkle with a little salt (this helps release the liquid). You may want to use the back of a spoon to help squeeze out any excess liquid. Combine strained cucumber, garlic, yogurt, salt, pepper, lemon juice, dill and chives (if using). Taste and add more lemon juice or salt if needed. Refrigerate for a few hours before serving. Makes about 2 cups. Store in refrigerator for about a week.