Recipe
I got this recipe from my sister years ago and recently discovered it in my recipe book. I made it for supper the other night and suddenly remembered how much I like it. I had forgotten how good it is! The sweet, buttery sauce is delicious on chicken and also poured over rice. Adjust the curry powder to your liking. I love curry and use the whole 4 tsp's and omit the cayenne pepper because I like it mild.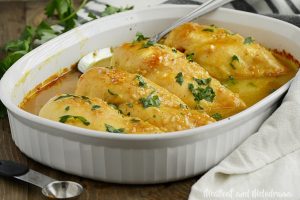 Honey Curry Chicken
• ½ cup liquid honey
• ¼ cup butter, melted
• ¼ cup Dijon mustard
• 2-4 tsp mild curry powder
• Pinch of Cayenne pepper (optional)
• 3 lbs of chicken, any cut (I usually use bone in chicken breasts)
• Salt and pepper
Preheat oven to 350 degrees. Whisk honey, butter, mustard, curry powder and cayenne pepper together. Salt and pepper the chicken and place in a casserole dish. Reserving ½ cup of the honey liquid mixture pour the remaining over the chicken. Cover and bake for 30 minutes. Uncover and pour on the remaining honey mixture, basting the chicken. Bake for another 15- 30 minutes depending on the cut of the chicken, until cooked through and juices run clear.