Recipe
This cheesy version of spinach dip is a favourite. It takes just minutes to put together and will be the first thing eaten at your next gathering. The most important part of making this recipe is to be sure all of the water is removed from your spinach. You can squeeze the spinach between your fingers to remove the liquid, press it in a potato ricer, or wrap the spinach in a few layers of paper towels to wring out all the liquid. You can use frozen spinach in a pinch, but it has a stringier texture.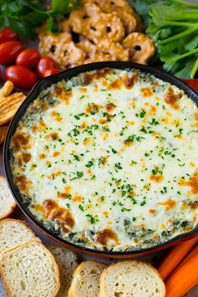 Hot Spinach Dip
• 8 ounces cream cheese softened
• 1 cup sour cream
• 10 ounces fresh spinach leaves
• 1 teaspoon minced garlic
• 1/2 teaspoon salt
• 1/4 teaspoon pepper
• 1/2 cup grated parmesan cheese
• 1 1/2 cups shredded mozzarella cheese divided use
• 1 tablespoon chopped parsley
• bread, crackers and vegetables for serving
• cooking spray
Steam or sauté the spinach until wilted. Let cool, and then wring out all the excess water. Coarsely chop the spinach. Preheat the oven to 375 degrees F. Coat a small baking dish or skillet with cooking spray. Place the cream cheese, sour cream, cooked spinach, garlic, salt, pepper, parmesan cheese and 3/4 cup of the mozzarella cheese in a bowl. Stir until well combined. Spread the spinach mixture into the prepared dish. Top with remaining mozzarella cheese. Bake for 20 minutes or until dip is bubbly and cheese is melted. Turn the oven to broil and cook for 2-3 more minutes or until cheese starts to brown. Sprinkle with chopped parsley then serve with bread, crackers and vegetables.