Recipe
Thank you, goes out to Sue for sharing this easy and delicious recipe with my daughter. I made it over the weekend for dinner and it was enjoyed by even us nonvegetarians. If you like curry dishes, you will enjoy this one.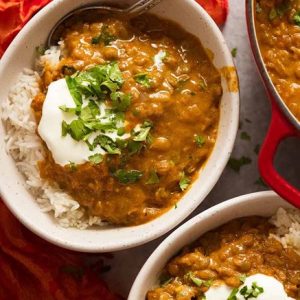 Lentil Curry (serves 2)
1 cup of dried red lentils
¼ cup of low sodium soya sauce
¼ cup of peanut butter
1 900 ml box of vegetable or chicken broth (add enough water to make 4 cups of liquid)
2 tsp ginger powder (you can increase to preferred flavour)
1 tbsp curry (you can increase to preferred flavour)
2 cloves garlic, minced
Chopped peanuts, coriander and plain yogurt are optional
Combine above in a 5-quart saucepan. Bring to a boil. Cover, lower heat and simmer approximately 20 minutes or until thickened; removing lid and stirring when needed. Serve over basmati rice. Can sprinkle with coriander or peanuts and a dollop of plain yogurt when serving.