Recipe
My friend shared this delicious recipe with me that her family enjoys. Even if you are not eating low carb, you'll enjoy this light but flavourful casserole that is quick and easy to make. It's also a great way to sneak some extra vegetables into the kids.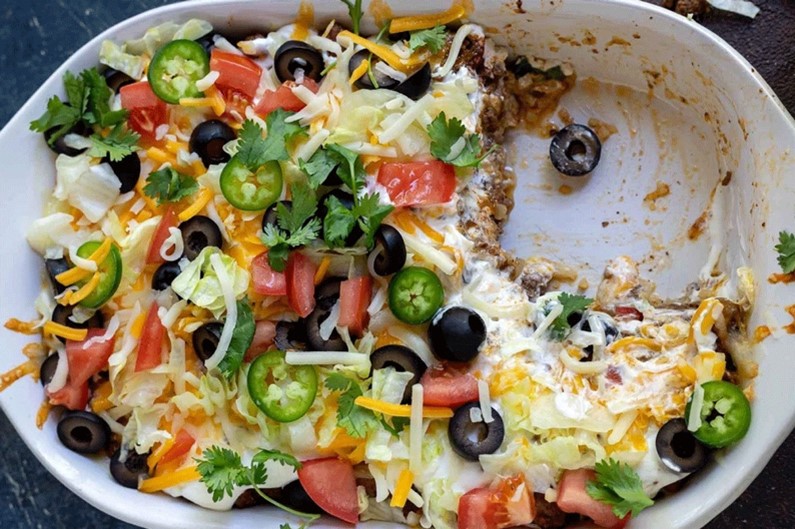 Low Carb Taco Casserole
• 10 ounces Frozen Cauliflower Rice
• 2-3 Tablespoons Oil
• 2 Lbs Ground Beef
• 1 Small Red Bell Pepper – seeded, chopped
• 1 Small White Onion – chopped
• 4 Tablespoons Taco Seasoning
• 1 Tablespoon Tomato Paste
• 1/2 Cup Water
• 3 Cups Shredded Colby/Jack Cheese
• 1 Cup Sour Cream
• Optional Toppings: Chopped Lettuce, Chopped Tomato,
Sliced Black Olives, Avocado/Guacamole, Cilantro,
Sliced Jalapeno, Salsa, Hot Sauce
Preheat oven to 350ºF. Pan fry the cauliflower rice in oil over medium/high heat until browned. Transfer to greased 2qt casserole dish and spread in an even layer. Brown ground beef with red pepper and onion over medium/high heat. Drain excess fat if necessary, then add taco seasoning, tomato paste and water. Stir and cook until liquid absorbs. Transfer to casserole dish in an even layer on top of cauliflower rice. Top with shredded cheese and bake for 10-15 minutes. Spread sour cream over the top. Sprinkle with extra shredded cheese and preferred toppings.