Recipe
This is a no-fry, easy version, of meat sticks that as a child I remember eating around Christmas time. They can be cooked ahead, frozen and then just reheated for serving. We always ate ours with plum sauce but you can serve them with any of your favourite dipping sauces. These are great to have on hand for entertaining during the holidays.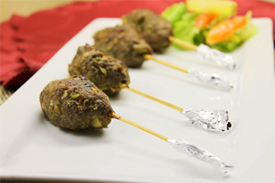 Meat Sticks
1 ½ lbs lean ground beef
½ lb ground pork
1 ½ tsp salt
¼ tsp pepper
1 package onion soup mix
½ cup milk
2 cups Italian bread crumbs
2 eggs, beaten
2 tsp minced, crushed garlic
½ tsp marjoram
½ tsp celery salt
1 package Italian Shake and Bake
Soak 36 bamboo skewers in water overnight. Combine all ingredients (except Shake and Bake) in a large bowl. Mix well with your hands to combine ingredients. Shape meat into sausage-sized cylinders around a skewer (approximately 1/3 cup per skewer). Roll each one in Shake and Bake to coat. Overlapping the sticks, stand/lean the meat sticks up around the edge of a large roast pan. In a 325 degree oven, bake 40 – 60 minutes or until cooked through. Serve with plum sauce or barbecue sauce.