Recipe
The first time I tried Mexican Street Corn I was sold! I wasn't sure about the whole concept, but the addition of toppings onto a fresh cob of corn made it extra special and so delicious. This recipe packs all the yumminess of Mexican Street Corn into a salad. Fresh corn is best, but you can substitute with an equivalent amount of frozen corn. Serve it as a side dish at your next barbecue or serve with tacos.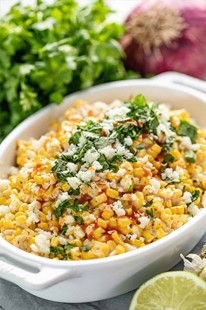 Mexican Street Corn Salad
• 6 ears corn shucked, or frozen corn thawed and drained
• 1/4 cup mayonnaise
• 1/4 cup Mexican crema or
(sour cream mixed with a tsp of lime juice)
• 1/2 cup crumbled feta cheese
• 1/2 teaspoon chili powder
• 1/4 teaspoon salt
• 1/4 cup freshly chopped cilantro
• 1 tablespoon hot sauce
Wrap the corn in aluminum foil and place on a 400-degree grill or in a 400-degree oven for 15 minutes. Unwrap and set aside to cool. Meanwhile, in a small bowl whisk together mayonnaise, Mexican Crema (sour cream), 1/4 cup of feta cheese, chili powder, and salt.
Cut corn kernels from cob and stir into mayonnaise mixture. Sprinkle with remaining Feta Cheese and cilantro. Dot with hot sauce.