Recipe
This is one of those recipes that I make often but don't have an exact recipe for. Rice accompanies many dishes, and I love mushrooms in almost everything; but you can of course omit them if you are not a fan. I have as accurately as I can, estimated the amounts I use. You can add more or less, of the add-in ingredients to suit your taste. The rice and liquid measurements always give me perfect rice.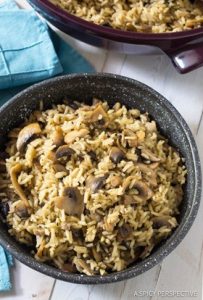 Mushroom Rice
• 1-2 tbsp butter
• ¼ of an onion, chopped
• ½-1 package of fresh sliced mushrooms
• ½ tsp onion powder
• ½ tsp garlic powder
• ¼ tsp thyme
• Salt and pepper, to taste
• 2 cups uncooked, long grain rice
• 2 cups chicken stock
• 2 cups water
Melt butter in a large pot on medium/high, add chopped onion and mushrooms. Add onion powder, garlic powder, thyme, salt and pepper. Stir and cook until onions and mushrooms start to soften. Add dry rice; stir and continue to cook for one minute. Pour in chicken stock and water. Bring to a boil and then heat down to low. Cover and continue to cook for 20 minutes or until all liquid is absorbed and rice is tender. Remove from heat and allow to sit 5 minutes. Stir with a fork and serve.