Recipe
If I was going to be left stranded on a deserted Island and could pick one thing to take with me, it might possibly be a jar of peanut butter. Probably having something to make fire would be a better choice; it would be a difficult decision. I love anything and everything with peanut butter in it. Add chocolate to the equation and I'm sold. This recipe has 5 simple ingredients and only takes 10 minutes to make. It's almost too easy, for when you 're having a craving. It can also be cut into squares and frozen to add to holiday cookie trays.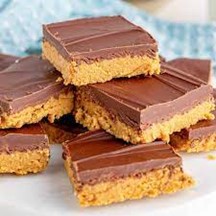 No Bake Peanut Butter Bars
• 3/4 cup butter melted
• 2 cup graham crackers crushed
• 2 cup powdered sugar
• 1 1/4 cup creamy peanut butter
• 3 tbsp creamy peanut butter
• 2 1/2 cup semi-sweet chocolate chips
Line a 9×9 baking dish with parchment paper, set aside. Using either a stand mixer or a hand held mixer, combine the melted butter, powdered sugar and graham crackers.
Mix in the 1 1/4 cup of creamy peanut butter, just until well incorporated. Evenly spread the peanut butter mixture into the bottom of the baking dish. In a heat safe bowl, add the semi-sweet chocolate chips and the remaining 3 tablespoons creamy peanut butter. Heat for 30 second intervals, stirring well after each interval until the peanut butter and chocolate are smooth. Spread the chocolate mixture over the peanut butter base. Cut servings before you put the bars into the refrigerator. (The bars cut much easier this way). Chill the bars for 1 hour. Let the bars sit 10 to 15 minutes, at room temperature, before serving. Store in the fridge or can be frozen.