Recipe
This is a rich, moist cake with a soft texture, and a crusty, sweet top. I made it this week to use for strawberry shortcake and it didn't disappoint. Pound cakes are so versatile. You can enjoy them plain, with ice cream and sauce, use them for strawberry shortcake or layered in a trifle. The possibilities are endless. This recipe makes a BIG cake. We ate part of it and I froze the rest of it to make a future trifle. If you're not an almond extract fan (like me) you can use all vanilla extract. Be sure to test your cake and bake according to your oven. I had to bake mine an extra 15 minutes.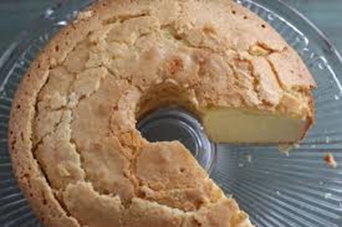 Old School Cream Cheese Pound Cake
• 1 ½ c cake flour
• 1 ½ c all- purpose flour
• 1 ½ cups of butter (¾ of a pound) , unsalted (softened at room temp)
• 8 oz cream cheese, room temperature
• 3 ¼ c sugar
• 1 ½ tsp vanilla extract
• 1 ½ tsp almond extract
• 1 tsp salt
• 6 large eggs
Beat butter and cream cheese with a mixer on medium speed until mixture comes together. Add sugar and extracts; beat until light and fluffy. Reduce speed to low. Mix flours with the salt. Add eggs, one at a time, alternating with flours, 1/2 cup at a time until all eggs and flours are used. Transfer to a buttered, and floured, 10-cup bundt pan. Place in cold oven. Heat oven to 325 degrees. Bake until an inserted tester comes out clean about 1 1/2 hours. Remove cake from pan. Let cool on wire rack.