Recipe
I work with one of the best bakers in town and she was kind enough to share the following recipe with me. She says the secret is to use a large navel orange and to use butter not margarine. I have heard from someone who has had these muffins that they are moist, delicious and disappear quickly when served. I can't wait to try them.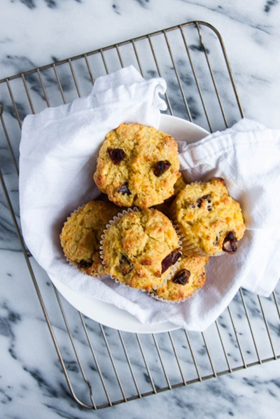 Orange Raisin Muffins
• 1 whole navel orange ( seeds removed)
• ½ cup orange juice
• ½ cup raisins OR chopped dates
• 1 egg
• ½ cup butter
• 1 ½ cups all-purpose flour
• ¾ cup white sugar
• 1 tsp baking soda
• 1 tsp baking powder
• ½ tsp salt
Preheat oven to 375 degrees. Line or grease 12 muffin cups. Cut the orange into pieces and remove any seeds. Put the whole orange, peel and all, with the orange juice into a blender and whirl until peel is finely chopped. Drop in the egg and butter and blend until just combined. Mix together the dry ingredients with the raisins/dates. Pour orange mixture over dry ingredients and stir only until moistened. Fill prepared muffin cups ¾ full. (Makes 9 to 12 muffins depending on size of orange and if you add extra raisins/dates) Bake for 15-20 minutes.