Recipe
Here's a light, no-bake, summer dessert that everyone will love, because seriously who doesn't love Oreos? The beauty of this dessert is it is best after it's been chilled for many hours, so it can be prepared even a day ahead and stored in the fridge until you are ready to serve it.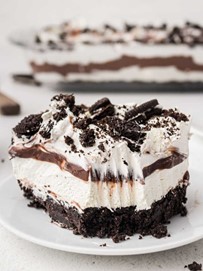 Oreo Delight
• 50 Oreo cookies (approximately 1 package)
• ½ cup unsalted butter, melted
• 1 250 g package cream cheese, softened to room temperature
• 1 cup confectioners' sugar
• 2 tubs Cool Whip (you need 16 oz)
• 2 packages instant chocolate pudding, 4-serving packs
• 2 ½ cups of 2% milk
Use a 9" x 13" baking dish. Use a food processor to crush Oreos or place cookies in a large Ziplock bag and crush with a rolling pin, until they are fine crumbs. Remove ¾ cup crushed Oreos and set aside for the topping. Mix the remaining crushed Oreos with melted butter and stir to mix. Press the Oreo and butter mixture into the bottom of the 9×13 dish. Pop this into the freezer for a few minutes while you prepare your next layer. Beat together cream cheese and confectioners' sugar until smooth. Beat in 1 tub of Cool Whip (about 30 seconds – don't overbeat) into the cream cheese mixture. Carefully layer the cream cheese mixture over the Oreo Crust. Drop the cream cheese mixture evenly over top of the crust so that it's easier to spread out evenly. You don't want to spread this out too much or you'll start to pull up the Oreo base. In a separate bowl, beat together milk and dry pudding mixtures. Beat for about 2 minutes. Spread pudding evenly over the cream cheese layer. Spread the other tub of Cool Whip over the top then sprinkle with remaining Oreo crumbs. Chill in the refrigerator before cutting.