Recipe
I'm not going to lie, this recipe has been circling the internet and it looked so good I had to try it. It's a simple side dish, with virtually little clean up and it's delicious! Place cauliflower florets in a large zip close bag, add a little olive oil, toss to coat and then add the rest of the ingredients. Shake it all up and pour it onto a lightly greased, foil lined pan. They are the perfect quick side dish and double as a vegetarian baked chicken nugget.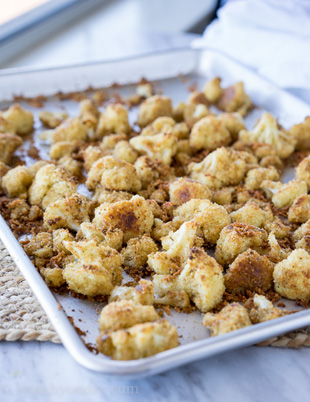 Parmesan Roasted Cauliflower
• 7 cups cauliflower florets, cut to bite sized pieces
• 3 to 4 tbsp olive oil
• 1 cup Italian bread crumbs or panko bread crumbs
• 1/2 tsp garlic powder
• 1/2 tsp salt
• 1/3 cup parmesan cheese
Preheat oven to 425 degrees F. Line a large, rimmed baking sheet with foil and spray liberally with non­stick cooking spray. Set aside. Combine the cauliflower and olive oil in a large zip close bag and shake to coat. Add the remaining ingredients to the bag and shake until coated, pressing slightly to help the breading stick. Pour onto the baking sheet and spray the tops of the cauliflower with cooking spray and bake for 20 minutes. Stir the cauliflower and continue to bake an additional 10 minutes. Serve hot and enjoy!