Recipe
Are you looking for a last minute, easy to make, delicious cookie to make for Christmas? These are one of my favourites that my mom makes throughout the year. I stock up on peanut butter chips when I'm shopping at Walmart just to make these cookies.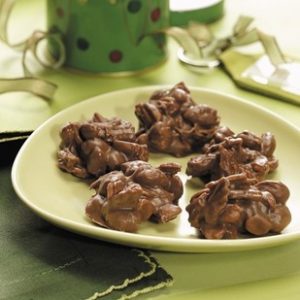 Peanut Butter Clusters
• 2 cups peanut butter chips
• 1 cup milk chocolate chips
• 1 ½ cups dry roasted peanuts
• 1 cup crushed rippled potato chips
In a microwave-safe bowl, melt peanut butter chips and chocolate chips; stir until smooth. Stir in peanuts and potato chips. Drop by level tablespoonfuls onto waxed paper-lined baking sheets. Refrigerate until firm. Store in an airtight container.