After several requests for my cookbook this Holiday Season, I decided to print off 25 more Mother May I Recipe Books. If you are needing a last minute gift or if you've been meaning to get one, you can pick one up at Around & About/ Paperworks or at Trail Side Sports. I would like to take this opportunity to thank everyone. It was a personal project and goal, and I am overwhelmed by the support and kind words that I have received. It does my heart good, to know it is enjoyed and used. Wishing all our readers a very Merry Christmas and a safe, happy holiday.
Recipe
I just made these delicious squares; they taste a lot like pecan pie and are so easy to make. The recipe contains very few ingredients and the procedure is not time consuming; a perfect last minute addition to your cookie tray for the holidays.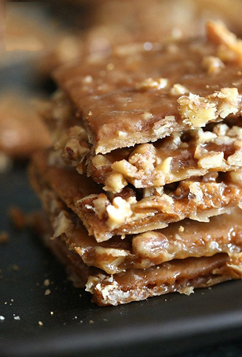 Pecan Graham Bars
• 1 cup butter
• 1 cup brown sugar
• 1 cup pecans, chopped
• 20 graham cracker squares
Line ungreased cookie sheet with graham cracker squares. In saucepan, melt butter and brown sugar. Bring to rolling boil and boil for 2 minutes. Do not over boil or it will become sugary. Stir in chopped pecans. Pour over graham crackers and spread evenly. Bake in 350° oven for 10 minutes. Allow to cool, and break squares into halves. Enjoy!