Recipe
Oh my goodness, these muffins are good. Our favourite office baker made these for us last week and everyone had the same response after the first bite, "mmmm". If you are a pecan pie fan, you will love these muffins. They taste like pecan pie in muffin form. They don't contain the usual baking powder or baking soda but have a muffin texture with a soft, gooey inside. If you use a muffin liner, allow muffins to cool for easier removal from the liner.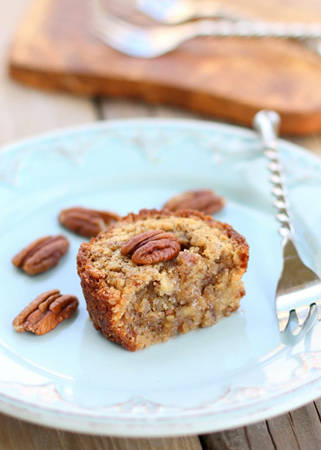 Pecan Pie Muffins
(yields 12 muffins)
• 1 cup packed brown sugar
• ½ cup of flour
• 2 cups pecans, chopped
• 2/3 cup butter, softened
• 2 eggs beaten
• 12 whole pecans for decoration
Heat oven to 350 degrees. Well grease a muffin tin and set aside. Mix sugar, flour and chopped pecans together. In a separate bowl beat butter and eggs until creamy. Stir in the dry ingredients until just combined. Spoon batter into muffin tin and bake for 15- 18 minutes. Cool and enjoy!