Recipe
All the goodness of a Philly Cheesesteak in a meatloaf version. Packed with flavour and melted cheese, it is a perfect winter meal served with garlic mashed potatoes and a salad.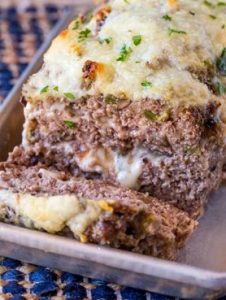 Philly Cheesesteak Meatloaf
• 2 tbsps butter
• 1 small onion, diced
• 1 small green pepper, diced
• 8 ounces of mushrooms, minced
• ½ tsp salt
• ½ tsp pepper
• 2 lbs lean ground beef
• 2 tbsp ketchup
• 2 tbsp Worcestershire sauce
• 2 eggs
• 1 cup panko breadcrumbs
• 8 ounces Provolone Cheese slices or Mozzarella (reserve half for top)
Preheat the oven to 375 degrees and spray a large loaf pan with cooking spray. In a large skillet, add the butter and the onions, bell peppers, mushrooms, salt and pepper. Cook until vegetables are tender; let cool for five minutes. In a large bowl add the ground beef, ketchup, Worcestershire sauce, eggs, panko breadcrumbs and the cooled vegetable mixture. Add half the meat mixture to your loaf pan and then add half of the cheese to the middle of the loaf in a 2 -inch wide section. (cut the slices into thirds for the right width). Cover with the rest of the meat and form into a rounded loaf shape. Cook for 40 minutes. Remove from oven and carefully drain any grease from around the loaf; cover with the remaining cheese and put back into the oven. Cook for 15-20 minutes. Let rest for 10 minutes before cutting.