Recipe
I debated sharing this recipe with you because Christmas is over but it's too good to wait until next year, plus it's technically still the holiday season. This could be served at a New Year's Eve party or you can just snack on it while watching television like I've been doing. I've made it once and I am picking up more ingredients to make it again. Warning, it is very addictive!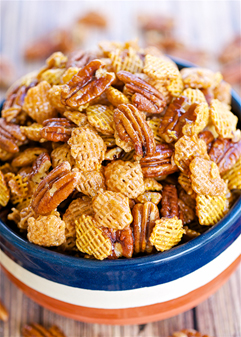 Praline Crunch
(makes 10 cups)
• 8 cups Crispix cereal
• 2 cup pecan halves
• 1/2 cup brown sugar, packed
• 1/2 cup corn syrup
• 1/2 cup butter
• 1 tsp vanilla extract
• 1/2 tsp baking soda
Preheat oven to 250ºF. In a large bowl, combine cereal and pecans. In a medium saucepan over medium high heat, combine brown sugar, corn syrup and butter. Bring to a boil, stirring occasionally. Remove from heat and stir in vanilla and baking soda. Pour over cereal mixture, tossing to coat evenly. Pour cereal mixture into a 9×13-inch casserole dish. Bake for 1 hour, stirring every 20 minutes. Pour onto wax or parchment paper to cool. Break into pieces.