Recipe
This recipe was given to me last year and my plan was to put it in my column for Thanksgiving this year, but unfortunately it snuck up on me and has come and gone. But it's still pumpkin season and Halloween is still to come, so I think this recipe is appropriate. With a buttery pecan crust, a whipped cream cheese layer, light and fluffy pumpkin spice pudding, and more whipped cream topped off with chopped pecans, this pumpkin delight dessert is absolutely delightful!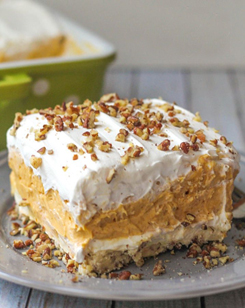 Pumpkin Pie Delight
• 1 cup flour
• 1/2 cup butter, softened
• 3/4 cup pecans, chopped
• 8 oz cream cheese, softened
• 1 cup powdered sugar
• 3 cups of Cool Whip
• 2 1/2 cups of milk
• 3 packages of vanilla instant pudding mix (3.4 oz size)
• 15 oz can pumpkin puree
• 1 tsp pumpkin spice
Layer 1
Mix flour, butter and ½ cup pecans together. Press into a sprayed 9×9 OR 9×13 pan. Bake for 15 minutes at 350 degrees, then remove and let cool. NOTE: If you are using a 9×13 pan, or would like a thicker crust, add an additional ½ cup flour, ¼ cup butter and ¼ cup chopped pecans.
Layer 2
Blend cream cheese and powdered sugar, add 1 cup of the whipped topping, spread over cooled crust.
Layer 3
Mix milk, pudding mix, canned pumpkin, pumpkin spice and 1 cup whipped topping until smooth. Spread over top of layer 2.
Layer 4
Spread remaining 1 cup of whipped topping and sprinkle pecans.
Let chill for 3 hours or until set. Serve chilled, and ENJOY!