Recipe
This recipe comes from our favourite office baker's great- great aunt. We enjoyed them at work last week slathered with butter and homemade jam. The secret to tender scones is to not handle the dough too much or overwork it. Keep it quick and simple. They are melt in your mouth delicious, and are perfect served with a hot cup of coffee or tea. I can't wait to serve them for breakfast next time I have overnight guests.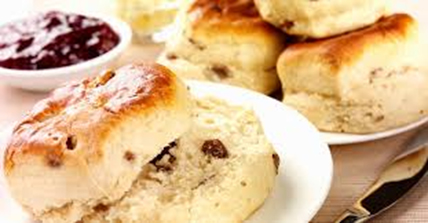 Raisin Sugar Scones
• 2 ½ cups of flour
• ¾ cup white sugar
• ½ tsp salt
• 4 tsp baking powder
• 2/3 cup shortening or butter (Doreen uses butter)
• 1 cup of raisins ( soaked in warm water for 15 minutes)
• 1 egg lightly beaten- with enough milk to make 1 cup
• Sugar for sprinkling
Sift dry ingredients together, cut in shortening or butter until fine and crumbly. Drain the water from the raisins and add to the dry ingredients. Stir in the egg/milk mixture with a fork until the dry ingredients are moistened. Turn mixture onto a floured surface and pat to ½ inch thick. Cut into diamond shapes or use a round cookie cutter. Place scones on a parchment lined cookie sheet. Sprinkle lightly with white sugar. Bake at 425 degrees in oven for 12-15 minutes. Serve warm or cold. May be reheated for later use.